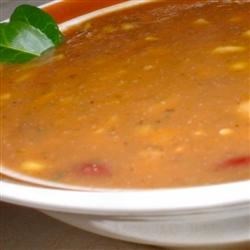 This recipe and photo is courtesy of Karen-Jean Coxe's recipe posted on
AllRecipes.com
. This is easily made from average food storage supplies. In her original recipe, she says:
I made up this recipe when I had no idea what to make for dinner, I had a lot of canned foods so I decided to use them. I hope this works for you as good as it works for me. Serve hot with homemade cornbread and green salad.
Ingredients (serves 6 to 8)
28 oz. (1 can) Tomatoes, stewed
16 oz. (1 can) Refried Beans
15 oz. (1 can) Corn, whole kernel, drained and rinsed
15 oz. (1 can) Green Beans
14.5 oz. (1 can) Vegetable Broth
1 Tbs. Oregano, dried
1 Tbs. Garlic Powder
1 tsp. Basil, dried
1 Tbs. Parsley, dried
2 Tbs. Onion, dried, minced
Salt and Pepper (optional)
Directions
Puree stewed tomatoes in an electric blender or mixer.
Place tomatoes, refried beans, corn, green beans, and vegetable broth in a large pot.
Cook over a medium heat, stirring occasionally.
Continue until the refried beans and tomatoes cook down to create a base for the soup. Add water as needed to prevent over-thickening.
Add oregano, garlic powder, basil, parsley, and minced onion. Salt and pepper to taste as desired.
Cover and cook until mixture is just boiling.